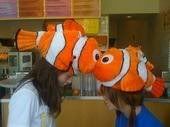 Nope, not the computer kind either.
I am talking about the old school, personal
desktop
assistant. I have one now courtesy of Michael's job (a little white collar crime never hurt anyone). I am so happy with it. I was actually really stoked to put it up. Michael asked me to
please
not put it up in the house. I guess I have to agree, it is really ugly, white and looks like the plain ones they give you at your office for your desk. I am so thrilled with it though.
I like to SEE what my day/week/month has lying in store for me. I have tried the leather bound calendars, the dollar store jobbies, the computer ones, microsoft outlook, all of them and I don't seem to get organized. I always seem to be missing some activity, event, birthday, deadline etc.


I actually dream of a big board with dry erase markers where I can put all of our names (think car dealership or nurses station) and what we got going on for the week. It is difficult to manage a household and the appts, birthdays, anniversaries, parties, playgroups etc. With this new calendar I can feel the organization and timeliness oozing out of me. Yay.


Now what was on my agenda for today? Oh yeah, "BLOGGING"- check