So, it's Monday, Sept. 1st......mighty fine day to begin...dun dun dun dun.....Potty Training! Athena is about 3 months shy of being 3 years old, so we thought it was a good time to start. So we (Michael and I) woke up super gung ho about the idea.
We had 1. the potty
2. the rewards (aka...the stickers)
3. the pull ups

No, not these. These.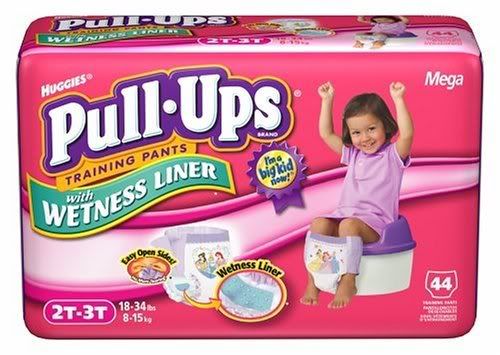 4. the panties (you'll need to read further to find out why these).
and
thanks to Abu Mimi 5. The potty time Elmo movie.
Athena and I had the talk. "Baby, we are not going to use diapers anymore. You will use the potty like momma and daddy". She looked very serious but seemed to get it........so I thought. She said, "momma has black panties, and daddy has white panties". I said "yes, daddy has white panties" :)
We ran out of panties (which Abu Mimi also got her) and decided to go and get some at the store. There were so many options for panties. So many cute and frilly ones to choose from. Athena was looking at the ones with Care Bears, Ariel, Disney Princesses, Hello Kitty, and she seemed to be liking them. Well then she saw the Cars one. You know, that Pixar movie about the cars that are personified. Great flick. Well, Athena wanted the Cars panties....but the problem lied in the fact that these weren't Cars panties, but, actually Cars Boys Briefs. We watch our words carefully around the girls, never limiting them with what they can and cannot like or play with. So when I saw these and saw that they were briefs...with the slit and all, I didn't want to say to Athena "no, not these. these are for boys." She wouldn't understand about the front slit even if I tried to explain it. Well, it was going to be simple in my head-
offer her two choices at a time and eventually b/c of the law of large numbers, we'd go home with a princess or a "my little pony" because SHE wanted it.
Plan, Flawless. Execution, notsomuch. It went a little something like this....
me- ok Athena, do you want Ariel or Cars?
aba- ummm, I want Cars.
me- ok. Do you want Princess or Cars.
aba- umm Princess (me all excited...) no, Cars.
me- ok. Look at this Dora panty.
aba- how cute.
me- Dora, or Cars?
aba- Cars.
Cars it was.
So I have given zero stickers out today and have already cleaned the floor once and the sofa another time. It is only her (our) first day. I do have hope in the Blaze and hope that we get it soon. After all, if Elmo can get it so can my daughter ;)