This is not a pun(or bun as it will) or a catchy little post title so that I can talk about this
no, no. I am
actually
talking about Muffin. Tops. The tops of muffins. These glorious little chubby discs (stop laughing) of love that I found at the bakery this morning.
Who thought of this? What person can I
thank
for this???? Do you know that I end up eating the bottom half of the muffin, just cuz? Just cuz?
"Just Cuz" calories are the worst. You don't really enjoy them
and
your feel somewhat obliged to eat them. Ugh.
Not now folks, I have found the answers to my superfluous calories (in the muffin category). Muffin tops.
Even Eggo got wind of the discovery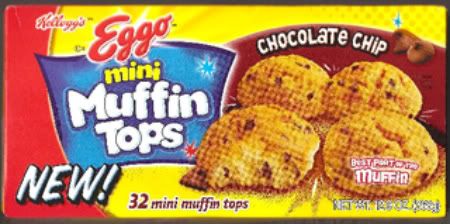 Now we need "Cookie Middles", "Cake Corners", "Pizza Slice Tips", "Brownie Ends", and "French Onion Soup Tops"...whoops, I guess that would be "melted cheese".
What are your favorite foods that have superfluous calorie chasers?