Well, you all remember my
post baby body break up
right? Well.....we didn't
completely
break it off like I said I had. I was ashamed to admit it but the constant emails, texts, flowers (cookie bouquets of course) and all out reconciliation attempts finally got to me. We got back to together.
But
, I am here to say that we have broken up for good this time. For reals. She has moved on to someone who really appreciates her and needs her (someone who doesn't know what a drag she really is yet). Someone else, not me.
What am I doing to remind myself that what we had together was just an illusion, a mirage, a downright downer you ask?????.........roller derby boot camp of course.
Yes, tonight I begin exercising with the
Machete Betties
. 2 hours of hard hitting fun. I will learn basic skating skills and derby skills such as falls, stops, and contact. I am in for a raucous good time, I just know it. I will need skates, pads (elbow, knee, and wrist), and a helmet. Doesn't that just scream fun?
Anyhow, I am going to try it out and try to get in shape with these gals.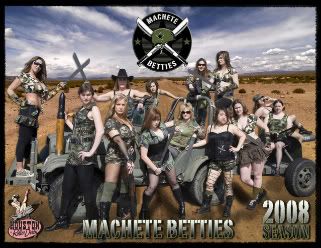 Don't they look sweet?

If I don't make it back to the blog, you know what happened.