I will not talk about the heat, traffic, or crime. I will not talk about the heat, traffic, or crime.
Off the top of my head........
1. I am able to buy freshly made tortillas at the supermarket's bakery. There is literally a lady making tortillas there. Incredible.
2. The rodeo is a really. big. deal. It's in Feb and the WHOLE city gets revved up. I love it. There are even trail riders. Riders start off like 300-400 miles away and they actually ride through Houston.....for the rodeo.
3. The skyline. I just love it. *swoon*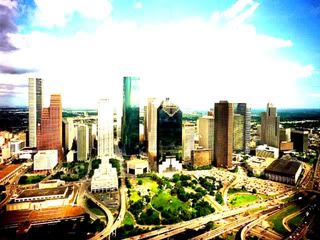 4. The diversity in food. Really phenomenal. I could and
should
weigh 400 lbs. The food in this city is sublime. Whatever you fancy, it's here.
5. The Space Center, too cool.
6. Miller Outdoor Theater offers the most diverse season of professional entertainment of any Houston performance venue, and it's all
FREE!
Classical music, jazz, ethnic music and dance, ballet, Shakespeare, musical theater, classic films.
7. Discovery
Green
-an urban park in downtown. All events at the park are free and open to the public, unless otherwise noted. Discovery Green presents Houston's diverse world-class performing, literary and visual art in its Art Series. Discovery Green's Entertainment Series offers movies, Extreme Wii competitions, and concerts by talented musicians that showcase a rich variety of Gulf Coast and Central Texas sounds. For the health and fitness-minded, the Healthy Living in the Park series offers a weekly urban market and exercise classes such as Pilates, Yoga, and Zumba as well as a Hip2BFit exercise class just for kids. The Families & Children Series offers hands-on workshops and activities suitable for children and their parents. On weekends, families can visit the park, put their pets in one of two dog runs and watch their kids play on the playground while they discard their newspapers and cans into recycling bins.
8. The
Galleria
9. Dive bars, all over town. Fabulous.
10. Bellaire China town, the food (dim sum, malaysian, korean, vietnamese)
11. Good salaries and cheap living.
12. People use "y'all" even in a professional setting.
13. I could seriously go on and on.
Do you know Houston? Woudl you agree, disagree, add, substract? or would you like to brag about your own city?????????